Voices are sounds that partly expose either vocal or choired symphonies.
The voices aren't colored. But however they're faded from purple to pink.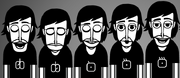 Choruses
Aoun: "Aaaooooooouuunn.."

Like Trill, this chorus went every half loop in Everything.

Hum: Hums spontaneously.
Vocals
Get: "I can get you everything you wanted to because I know."
Tellme: "You... tell me the right thing.. owo.."
Make: "You can make it if you want it. You can make it. (hm)"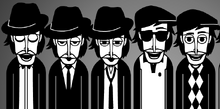 The color of the voices are faded from purple to pink.
Choruses
Oaaah: Wears a fedora, like most of them. He is wearing a suit with a bowtie. He makes some eerily beautiful choired sounds.
Cougou: Wears a suit with a tie. He makes some kind of cuica sound which changes pitch at a specific time.
Porticoeur: Wears an open suit with a tie and is also a Chorus. He makes a whistling noise like it's a funeral organ and changes pitch slightly for the first loop, and changes pitch three times at the second.
Vocals
Isit: Wears a beret and glasses. He whispers: "Is it, is it, all you got for me?", but says "Is it, is it" more quicker than the first half-loop
Uare: Wears a patterned shirt. He stabbers with: "You.. are-are-are-are-are-are-are-are-are-are-are.. the.. wo-oh-oh-oh-oh-oh-oh-oh-oh-one."
The color of the voices in this version is yellow. 
Waya: Wears a headband, and glasses. He sports a zip shirt. He shrieks: Hey! Wayaah! Wayaaah!.

For headphones or earbuds, one of the parts is a higher-pitched voice
Ride: Wears a fedora with a buckle. He is wearing an open sweater suit. He emits a sound very similar to the firsts. For the first, he just says Heyyaaa! at the start of the first loop, later again, this time with an exclusive I'll invite you for a little ride...
World: Wears aviator sunglasses, like the first.  He is wearing an open sweater suit, too, but with a sash wrapped on him. His outfit looks something like an 18th century army general would wear. He says "All over.." for the first loop and says "All over the world..!" at half of the second loop.
Colors: Wears a beret. He seems to be wearing a sort of shirt vest, with a pocket. He says "You gotta put some colors!" with a British accent before it is cut out for every half loop.
Sunrise: Wears largely round sunglasses, a suit, with a handkerchief-like thing stuffed in his neck. He is wearing no sleeves. He says "Sunriiiiiiise..over your heeeeeeeeeaaad!" for the first loop. and just says "Sunriiiiiiise.." for the second loop.
The color of this version's voices are lavender with hints of yellow.
Feel: Wears a backward cap, square glasses, and a gold necklace with a pixelated heart. He also wears a vest with an undershirt with white sleeves. He sings, "Yeah, when you're feelin' so fun!" twice, then "Yeah, when you're feelin' so fun, you gotta go with me, Yeah, when your feelin' so fun!"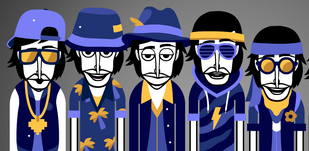 (Top image is V4 and bottom is AXE BOAT)
Chillin: Wears a bucket hat and a Hawaiian shirt. He sings, "Chilling'" in a robotic voice three times at the beginning at each half-loop.
Yeah: Wears a feathered fedora and a suit with an undershirt. He says "Yeah!" every half-loop. In the AXE BOAT version he is seen wearing a yellow v-neck shirt with a peace symbol on it instead of a purple one without the symbol.

Filback: Wears indigo shutter shades, a hoodie with a tiger pattern with a lightning bolt, and a sweatband, in the AXE BOAT version, he originally had a peace sign (which looks as though it was painted on his hoodie) and did not have a tiger pattern or his shutter shades. His sweatband is also indigo now. He sings "Well, I never filback, filback, c'mon yea.. never filback, filback, c'mon yea.." in an energetic voice on the first loop, then changes the "never filback, filback, c'mon yea.." to "you gotta get up." on the second loop.
Teylo: Appears to be hippie of some sort. He wears a headband with a tail, rounded glasses, and a mail shirt with a flower on it. He scats a lot in a crazy hippie-like accent. His design was mostly unchanged from the AXE BOAT version besides giving him rounded sunglasses.
The color for the voices are blood red and are based on Brazilian Indigenous tribes. They are often mistaken for the melodies because of their red color, and that despite being voices, they don't speak in Portuguese, except all of their voice symphonies are choired instead of most of them vocal.:
Bass: Wears a patterned tribal mask (inspired by the Wayana-Aparai Tamoko mask) with three tasseled pulleys and a poncho. Unlike the others, however, he makes a bass sound that changes key. The pulleys on his mask move up and down whenever the key of his bass sound changes.

Wa: Wears a headband, makeup, large earrings and a towel with zigzag patterns tied to his neck. He sings "Waaaaaaaa, Weeyaaaaaaaaaaa... Papalaaaaaaaaa.... Papalapaaaaaaa..."
Ya: Wears a feathery hat and dress. He also sings in a high-pitched voice as the others.
Palapa: Was some sort of hat and tribal costume. He sings the same tune, but the first few notes are different. He says, "Palapa pa pa la puh Pala pa pa" which is Musica's tune.
A few people mistake him as a female because of the tone of his voice.
Oh: Is an Indian chief. Sporting a feather headdress and a giant necklace. unlike the others, he makes a low-pitched "Oh-Woah" sound.
The voices wear glasses.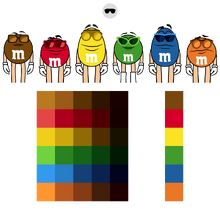 Ms. Brown Voice / Rock-Party: Says Rock this party up! at the end of the loop, but despite it sounding like F(ono) this party up!.
Red Voice / Gonna-Rock: Says You're gonna rock the parteh! at the beginning of the loop.
Yellow Voice / Fun: Says Al-ways fun..! at the end of the loop.
Ms. Green Voice / Gender-bent Rock-Party: Follows Red's lyric
Blue Voice / Up: Says Parr-ty upp!! 3 times and then says "Party!"
Orange Voice / Vertical: Says Get-up. Get-down. twice a loop, up and down are vertically polar opposites, which represents his name.
(You can play Bite-Size Beats here: https://computerdude77.github.io/index.html)
The color of the voices are burnt orange, with a hint of dark blue or navy blue.
Hurry: Sings in auto-tune "You better hurry.. no.. better.. better.. yea.. hurry hurry..!" He wears a backwards cap with an eye on it, has flaps behind his head, a golden pendant chain and an open vest with a shirt underneath. He sounds like a rapper due to his deep voice.
Good: Sings "If I'm already good, I'm still working on my skillz..!" He wears glasses with wing-like protrusions on the rims and a collared jacket with crazy alternating patterns of circles and zigzags.
Mind: Wears an orange and white head band, has dark blue face paint around his eyes and on his eyelids and a streak of orange face paint across his cheeks, and wears an orange vest. He sings also in auto-tune: "Yooooouuuuu-ou-ooouuuu... are mind-controlled.."
Haha: Sings Ha-ha ha-ha ha-ha in a rather eerie tone. He wears a kitsune mask that only covers his eyes and a jacket with flaps that extends to his shoulders.
Wow: Makes a chorus sound. He wears square sunglasses and a collared, poncho-like coat with a zigzag design that also cover his elbows.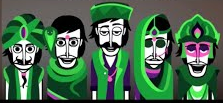 The color of the voices is light green, with a hint of pink.
Djindr: Wears a turban with a purple jewel in the center. He wears a vest with no undershirt, and has a goatee and mustache. This voice and the second voice are the only sounds in Incredibox that makes the exact sound, though they do start off differently
Djinga: Has a purple bindi and a garment covering his body. And most significantly, a cobra around his neck (as he is probably a snake charmer). He says the same thing as the first voice, but he says "Jiri-taka taka-to" in the first beat (instead of "Jiru-taka taka" about a quarter in) then sings the second part of the beat and stops all while making angry faces and looking at his snake. The cobra around his neck moves its head once and sticks it tongue out as well.
Djinta: Wears a taqiyya with a triangle pattern, a mustache, and a vest with an undershirt and a chain around his neck. He says the first verse of Kofitez.
Jeevan: Wears a sari, sporting a tiara with a gem, a bindi, some eye shadow, and a hijabi that goes over her head. She sings what sounds to be "Jeevan.." in high pitch.

He was misinterpreted as a female a repetitive amount of times, basically because of her cross-dressing and sound tone.

Yaha: Wears an Indian deity crown (Mukut), makeup, and a cape with chains. He sings "Yaaahaaaah.." in a soft tone.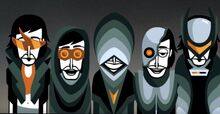 The color of this voices is teal, with a hint of orange.
Follow: Wears orange glasses and a jacket with an orange tank top that reveals his belly button and jeans. He says "Ride on the ship, follow us!" in the first loop, but "Ride up aboard and reach up to the sta-aaa-aaa-aaars!" in the second.
Choir: Wears a robe and hexagon goggles, He vocalizes the words Woah- multiple times. In the Riviera bonus, his robe is now dark blue and he doesn't have the hexagon goggles anymore.
HouHou: Wears a black hood that fades to light gray, with a black and dark green poncho and a shirt with black sleeves, He sings in an onomatopoeia-alike tone, but getting higher and softer in the second loop
Reach: Wears a robotic suit and collar with half a gray mask with a light-up "eye". He says Reaching the stars repeatedly in the first loop, then Reaching- four times, after that it's back to Reaching the stars- twice, and then Reach-, then moves his head violently and his voice glitches or malfunction.
Believe: Wears a suit with sides that fade to light gray. He sings We muuuuuuust be-lieve..!, but later with a cut to the be-lieve part in the second loop, to the tune of HouHou.